Advantech and Tien Kang Develop Smart Digitized Shoe Manufacturing Solution
26/10/2021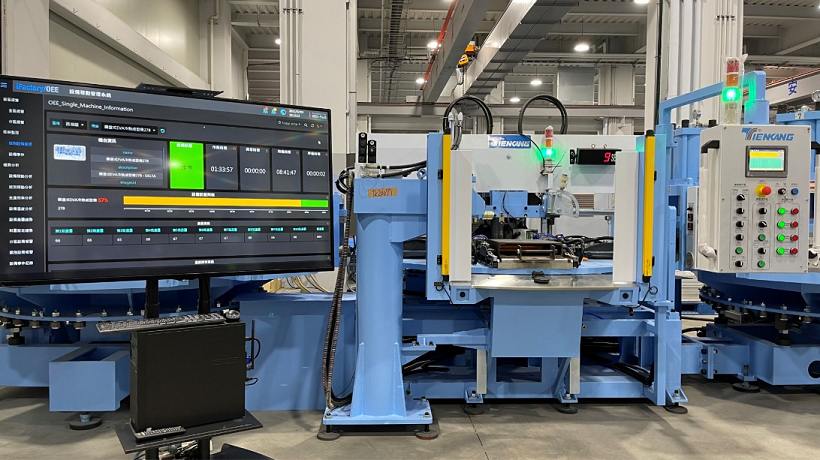 In consideration of the high-mix, low-volume production model typical of the shoe manufacturing industry, Advantech cooperated with a major shoe manufacturing machine maker, Tien Kang, to build a smart machine management solution that integrates intelligent software and hardware technologies.
Three major trends have emerged in the machinery industry in recent years — the standardization of power generation and carbon reduction, the servitization of products and solutions, and smart manufacturing equipment.In response to these trends, the shoe-making machinery industry must accelerate its smart transformation to enhance its competitiveness. Accordingly, Advantech collaborated with Tien Kang to develop iFactory solutions that leverage Advantech's expertise in smart manufacturing,machine networking, and AI edge computing for smart machine management.
Advantech Strengthens Tien Kang's Digital Transformation Process
Established in 1982, Tien Kang Co., Ltd. is focused on the R&D and production of high-tech shoe manufacturing machines. In recent years,as the global market becomes increasingly competitive, utilizing intelligent tools to boost performance and optimize after-sales service and warranty/maintenance support has become a crucial business strategy for Tien Kang. In regards to their digital transformation, finding the right partner who is capable of accelerating their smart development efforts was critical. Advantech's extensive experience with platform integration and app services in the field of smart machinery made them ideal partners for assisting Tien Kang with achieving the company's goals.
According to Gong Song-Nien, General Manager at Tien Kang, the first step in realizing smart machinery is to acquire accurate data.Although Tien Kang did previously collect data of the production parameters, productivity, and other relevant information, their data acquisition methods were costly, difficult to implement,and lacked effective standardization. However,following a comprehensive production line overhaul, Advantech has been able to assist Tien Kang with establishing a standardized O&M management solution that allowed them to take their first steps towards building smart machinery.
Advantech's iFactor y smart machine management solutions feature machine data collection and analysis functions, dashboard interfaces, and accompanying apps (I.Apps), all of which provided Tien Kang immediate benefits.These benefits included accelerated machine assembly, integrated data collection, systematic data visualization, and remote management of production lines at different locations. Another value-added benefit was enabling real-time notifications of abnormal events. Event alerts were sent in real time to the network edge via the cloud in order to promptly inform relevant engineering supervisors or personnel. An iMobile service app for repair management can then be used to schedule servicing and generate a progress report. This helps to reduce system downtime and significantly increase equipment utilization by minimizing unscheduled interruptions.
Significant Benefits Enhancing Corporate Competitiveness
In terms of hardware, Tien Kang adopted Advantech's iFactory real-time monitoring (RTM)gateway for collecting machine data to facilitate operations monitoring. The provision of an anomaly call-out function enables managers to troubleshoot problems in real time. Deputy manager of Tien Kang regional sales division, Hwang Bo-Ru, reported that the RTM function has also solved a long-existing data integration problem caused by machines using different communication protocols and data formats.Now, with the standardization of equipment and sensor data, factory managers can monitor every machine from the OEE app dashboard.
In terms of software, the iFactory smart machine management solutions adopted by Tien Kang can be integrated with Advantech's WISE-PaaS cloud platform and combined with value-added industrial apps, including the Overall Equipment Effectiveness (OEE), Repair Management Service, and Event, Alarm, and Notification (EAN) applications. All of these tools have enabled Tien Kang to digitally upgrade its machine making facilities and provide more just in-time after-sales services.
Currently, Advantech and Tien Kang have completed the first stage in the implementation of iFactory smart machine management solutions.Both parties will continue to collaborate in work to expand the smart functionalities of the machines. Collecting data from intelligent shoe-manufacturing solutions facilitates the implementation of lean production and optimizes the realization of digital transformation.
"Advantech's iFactory machine management solutions help Tien Kang take the first step into realizing smart machinery."— Gong Song-Nien, General Manager at Tien Kang
---
MyWISE-PaaS Magazine - The New Wave of the Industry 4.0
The Industry 4.0 revolution is predicted to bring about four critical changes in the field of industrial automation. Likewise, the Solution-as-a-Service model will become one of the three main business service models. Advantech focuses on co-creation in an effort to help expand the Industry 4.0 ecosystem in response to these trends.