Introducing the USC-100 Series Service Computers, Advantech's ARM-based All-in-one Solutions for a Wide Range of Enterprise Applications
30/01/2020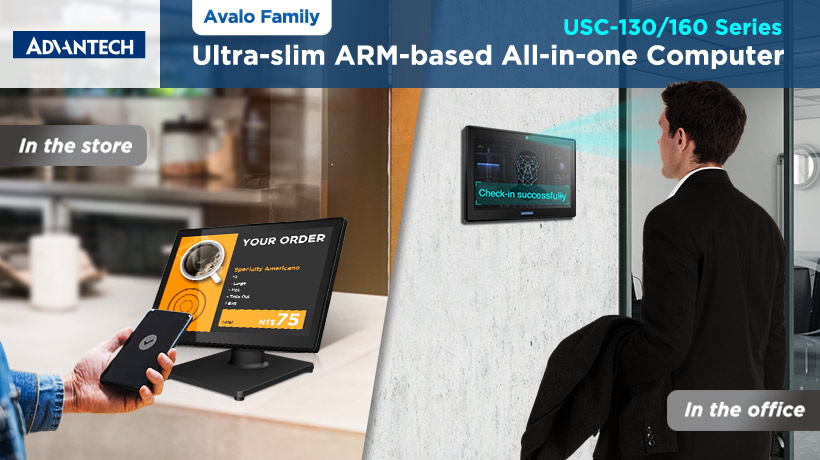 Taipei, 01/30/2020 – Advantech, a leading provider of embedded IoT solutions, is pleased to announce the launch of its USC-130 and USC-160 service computers, the ideal all-in-one solutions with ARM based CPU (RK3288) for a comprehensive range of enterprise applications, from intelligent point-of-sale and menu systems to equipment control and warehouse information terminals. With 11.6"/15.6" touch panel displays, the ultra slim (12 mm) and bezel-free designs of the USC-130 and USC-160 offer unparalleled flexibility with a wide range of valuable peripherals, including optional barcode scanners and embedded RFID and camera. Moreover, with mounting options including stand mounts, VESA/wall mounts, and panel mounts combined with cable covers for easy cable control, the ARM-based USC-130 and USC-160 are sleek and stylish as well as powerful.
All-in-one Solutions with Incredible Versatility
Whether it's a supermarket that needs an easy way to display daily in-store advertisements, a casino that wants to show its patrons the latest odds on a variety of wagers, or an airline that needs to provide up-to-the-minute updates on flight times, gate numbers, and delays, the USC-100 series computers are the ideal solution. A part of Advantech's Avalo family of products, which also includes a diverse range of touch-screen monitors, peripherals, and stands, the USC-130 and USC-160 support the provision of value-added services that enhance customer experiences while also enabling managers to collect consumer behavior data for subsequent analysis and operational optimization. With a reserved I/O panel for peripherals, the USC-130 and USC-160 integrate seamlessly with other Avalo family products to offer a wide combination range of possibilities. Need self-checkout terminals for your store? Combine the USC-130 with the optional barcode scanner, and your customers can make their purchases and be on their way with ease. Does your facility require terminals for AI facial recognition for security purposes? Combine the USC-160 with the optional inbuilt camera and NFC capability and you can screen all visitors with minimal difficulty. In short, with Advantech's USC-100 series computers, your application options are virtually endless.
Superior Software for Superior Products
Naturally, the USC-130 and USC-160 are fully compatible with Advantech's WISE-PaaS/AndroidDM, a developer-friendly and customizable Android platform that allows users to easily build industry-focused field applications. Linking edge devices to cloud servers and featuring a variety of valuable capabilities such as over-the-air remote firmware OS image upgrades, remote batch management, and remote desktop and device control and monitoring, the WISE-PaaS/AndroidDM provides a simple, efficient, and cost-effective way for customers to manage all Android devices remotely, making the USC-130 and USC-160 even more powerful. Furthermore, in comparison to competing Android products, Advantech's USC-100 series computers have brighter displays, more display size options, and far more options for both embedded and external peripherals. In other words, the rich features of the USC-130 and USC-160 and their compatibility with other Advantech products mean that alternative products simply can't compete.
The USC-130 and USC-160 are available for order now. For more information regarding the USC-130 and USC-160 or other Advantech products and services, please contact your local sales support team or visit our website at www.advantech.com.
Founded in 1983, Advantech is a leading provider of trusted, innovative products, services, and solutions. Advantech offers comprehensive system integration, hardware, software, customer-centric design services, embedded systems, automation products, and global logistics support. We cooperate closely with our partners to provide complete solutions for a wide range of applications in diverse industries. Our mission is to enable an intelligent planet by developing automated and embedded computing products and solutions that facilitate smarter working and living. With Advantech products, the application and innovation potential becomes unlimited. (Corporate website: www.advantech.com).