Advantech Announces Intel Select Solutions for uCPE to Address High-end Enterprise Networking Demand
16/09/2019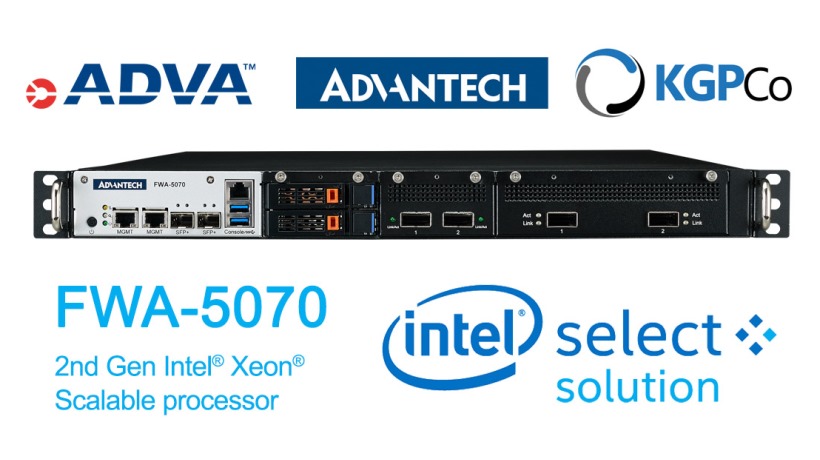 White-box uCPE portfolio boosted by 2nd Gen Intel® Xeon® Scalable Processors
Fully validated, pre-integrated and ready to deploy with ADVA Ensemble Connector
Just-in-time integration flexibility helps streamline uCPE supply chain costs
Available as a fully serviced platform under the KGPCo Premier Brand

TAIPEI, Taiwan, Sep 17, 2019 – Advantech (TWSE: 2395.TW) today announced a major addition to its verified Intel Select Solutions for uCPE portfolio aimed at streamlining communication service provider (CommSP) onboarding and deployment of high-performance white-box uCPEs.
Advantech's FWA-5070, available as a fully tested platform integrating ADVA Ensemble Connector, and verified to workload-optimized performance thresholds specified by Intel, will help CommSPs match service assurance levels with a pre-validated combination of hardware and software.
With data throughput capabilities up to 200 Gbps and specialized security, encryption and compression performance accelerated by Intel® QuickAssist Technology (Intel ® QAT), the FWA-5070 provides highly scalable compute headroom to match demanding edge application processing needs and increased packet processing in network function service chains.
Powered by 2nd generation Intel Xeon Scalable processors, the pre-integrated solution is ready to ship and will be made available for evaluation in Advantech's Remote Evaluation Service labs, enabling CommSPs to onboard innovative new technology faster, and accelerate time to revenue with new services. KGPco, a leading provider of complete, customized, and scalable network transformation and supply chain solutions for the communications industry will be introducing a fully integrated version of the FWA-5070 under the Premier brand.
"Enterprise and Operator businesses will benefit from the flexibility, scalability and timeliness of this combined solution," said Sandy Chen, Senior Director Advantech Cloud-IoT. "Aimed at taking the risks out of higher-CAPEX investments through a pre-validated and easy-to-deploy solution, it also brings cost savings to next generation rollouts where just-in-time integration flexibility based on a broader choice of build options helps optimize uCPE supply chain and buffer stocking costs."
Ensemble Connector is a carrier-class virtualization platform equipped for automated deployment at scale. As a verified Intel Select Solution for uCPE, it will help to accelerate service provisioning, streamline management and reduce costs. With its embedded cloud, Ensemble Connector provides NFV infrastructure and offers several key benefits for uCPE, including platform security, zero touch provisioning and access to the Ensemble Harmony Ecosystem of VNFs. Ensemble Connector built on Intel Xeon D and Intel Xeon Scalable processors is an optimized configuration that gives customers a hardware-software solution that is pre-integrated and ready to deploy.
The FWA-5070 is single socket design supporting the entire range of 2nd gen Intel® Xeon® Scalable processors. With a choice of Intel Xeon Scalable processors up to 28 cores, Intel QAT and 1GbE, 10GbE, 25GbE, 40GbE and 100GbE network interfaces, the FWA-5070 will allow vendors to optimize compute and acceleration for a broad range of desired VNF and application workloads while meeting throughput requirements up to 200 Gbps. The single-socket design with higher core count processor SKUs offers further economies of scale over dual-socket designs at lower power budgets while meeting the workload demand for mid to high-range deployments.

Paul Stevens, Marketing Director, Advantech Cloud-IoT Group
Phone: +33 1 41 19 75 75
E-mail: [email protected]
Founded in 1983, Advantech is a leader in providing trusted, innovative products, services, and solutions. Advantech offers comprehensive system integration, hardware, software, customer-centric design services, embedded systems, automation products, and global logistics support. Our mission is to enable an intelligent planet with embedded computing products and solutions that empower the development of smarter working and living. With Advantech, there's no limit to the applications and innovations our products make possible.
For Telecom and Networking markets, Advantech Cloud-IoT Group helps service providers and enterprises extend network function virtualization from the core to the edge by providing scalable compute platforms that reliably execute virtual network functions anywhere in the network. Our innovative white-box uCPEs for software-defined WAN and white-box servers based on Intel architecture are supported by a vibrant software ecosystem and supply chain, offering key foundational building blocks that accelerate network transformation and time to new revenue. From next-generation central offices to edge cloud expansion and IoT, Advantech Cloud-IoT Group is enabling the co-creation of products and services that will form the backbone of the new digital economy. http://www.advantech.com/nc.