Advantech's latest COM Express Type6 SOM-6883: Performance Breakthrough with 11th Gen. Intel® Core™ Processors and Advanced I/O Technology
25/01/2021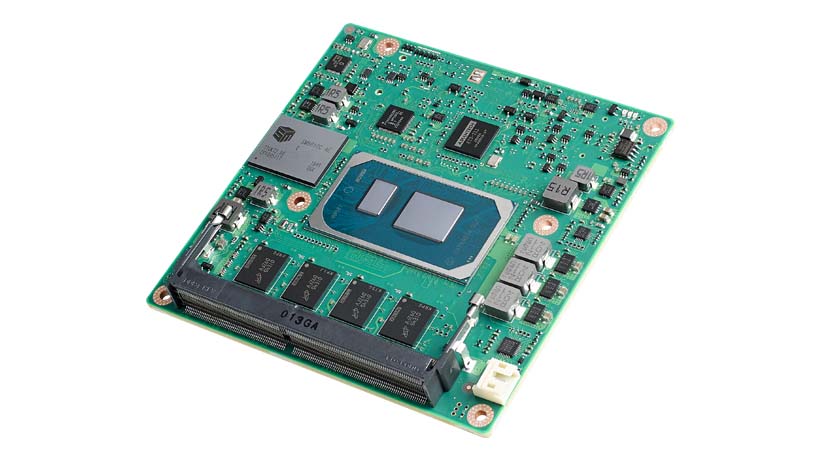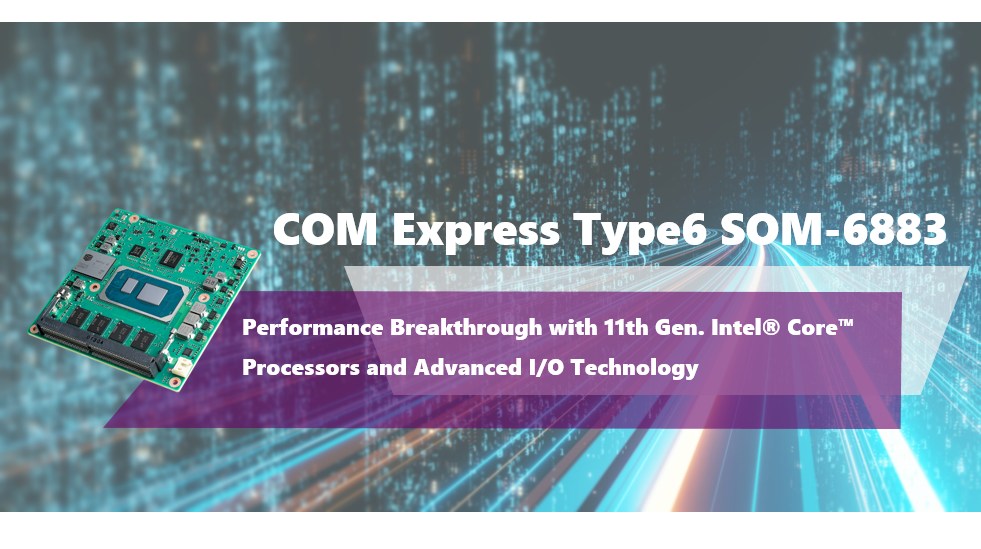 January 2021, Taipei, Taiwan - Advantech, a leading embedded and AIoT solutions provider, has released SOM-6883 for use in diverse applications. SOM-6883 is a COMe Compact Type 6 Module with 11th Gen. Intel® Core™ processors (also called as Tiger Lake UP3). It offers excellent Intel Iris Xe graphics, processing and AI acceleration with real-time, low-latency capabilities in low-power package, suitable for AI inference, medical imaging and edge applications with limited space.
Designed with DDR4 3200 memory, one channel memory down and the other SO-DIMM reserved for better memory capacity configuration to support the breakthrough graphics effect; SOM-6883 also delivers industry-leading super speed I/O technology such as 2.5Gbase-T TSN LAN, PCIe Gen 4 and USB 3.2 Gen 2. Additionally, Advantech provides a reference design to enable USB4 (Thunderbolt) via the carrier board to help users speed up this new technology implementation. With its on-board NVMe SSD and TPM2.0, IBECC memory, wide range power inputs, as well as wide operating temperatures — making it a reliable choice for medical, machine learning, high-end test equipment and defence applications.
Extreme Performance with 11th Gen. Intel 10nm Processors and Iris® Xe Graphics
Integrated with 10nm microarchitecture 11th Gen. Intel® Core™ processors that deliver CPU & GPU compute with AI acceleration; SOM-6883 presents excellent computing performance that up to 25% faster than the previous models, 2.95x graphics performance upgrade and responsiveness with 12-28W low power consumption. Adopting up to 96 GPUs and dual video decoder boxes with Intel Iris® Xe graphics, SOM-6883 is the first COMe Compact module that supports up to four ports independent 4K displays or two ports 8K HDR outputs. Meanwhile, this platform is known for its AI Acceleration with Intel® Deep Learning Boost engine, VNNI, which can improve the efficiency and increase the inferencing performance dramatically. To help our partners accelerate the AI revolution, Advantech will offer the Intel OpenVINO toolkit based on the demand.
Enhanced Data Transmission via 2.5GbE with TSN, PCIe Gen 4 and USB4
SOM-6883 supports multiple cutting-edge I/O technology. It enables super speed data transmission capability with wider bandwidth of 2.5G LAN, PCIe Gen 4 and NVMe SSD, to transfer massive data between AIoT applications. The 2.5G LAN equipped with TSN (Time Sensitive Networking) is the best choice for automation or edge applications in need of low-latency. This technology fulfills the demand of real-time traffic, allowing the critical data to get the priority in the communication process, such as transferring command, actions or safety information in time. On the other hand, SOM-6883 is the first COMe that supports PCIe Gen 4 for double data transition rate. It also supplies extraordinary USB4, which can be configured as DisplayPort, Thunderbolt, USB 3.2, and USB 2.0 in a low profile USB-Type-C connector. Advantech will offer USB4 reference design guide and starter kit of carrier board with a Mezzanine card, named SOM-MZ10, to help the partners to accelerate the design-in of new I/O technology easily.
Reliable and Ruggedized Design for Harsh Environments
Besides its excellent performance, the new SOM-6883 has more reliable design to adapt in diverse applications. SOM-6883 features soldered 16GB DDR4 3200 memory and NVMe SSD for better anti-vibration and anti-shock. It also supports IB-ECC memory for error correct function, TPM2.0 chip onboard to prevent cyber-threats, 8.5-20V wide range power input, and -40o~85oC wide operating temperature, thus it can comply with the requirements from mission-critical applications, including aerospace, defense, railway, transportation, and outdoor communication applications. Not only hardware, SOM-6883 also supports BIOS storage protection, and security boot, BIOS power-management, plus WISE-DeviceOn for remote hardware monitoring and over the air software update to prevent system malfunction, then create a dependable product applicable to a myriad of AIoT and IIoT scenarios.
COM Express R3.0 Compact Type 6 Module
11th Gen. Intel® Core™ i7/i5/i3/Celeron™ Processors
Up to 16GB On-board DDR4 3200MT/s and up to 32GB SO-DIMM 3200MT/s
Four independent displays with 3x DDI, eDP/LVDS or VGA

1 PCIe x4 Gen 4, 5 PCIe Gen 3, 4 USB 3.2 Gen 2, 2.5G LAN, 2 SATA III Ports

Supports Advantech iManager and WISE-DeviceOn

Operating Temp: Standard: 0 ~ 60 °C (32 ~ 140 °F), Extended: -40 ~ 85 °C (-40 ~ 185 °F)

Advantech's COMe Compact SOM-6883 C7A-S8A1 is ready for order from February, 2021. For more information, please contact your Advantech's sales support team locally or visit our website: https://www2.advantech.com/embedded-boards-design-in-services/com/
Founded in 1983, Advantech is a leading provider of trusted, innovative products, services, and solutions. Advantech offers comprehensive system integration, hardware, software, customer-centric design services, embedded systems, automation products, and global logistics support. We cooperate closely with our partners to provide complete solutions for a wide range of applications in diverse industries. Our mission is to enable an intelligent planet by developing automated and embedded computing products and solutions that facilitate smarter working and living. With Advantech products, the application and innovation potential becomes unlimited. (Corporate website: www.advantech.com)